It is that time of the year when the local markets are full of fresh peaches. Both the white and yellow are favorites here in Lancaster. I was asked to make some cookies for a gathering this past Saturday. So this week and next week will have peaches as the main ingredient.
We have a small local market that sells fruits and veggies along with locally made jams and jellies. They had a new contender this year Welsh Mountain Canning, LLC. For me, this is some of the best peach jam I have tasted in a long time. I will defiantly be trying some of their other products.
As we all know, the jam or preserves you add to your cookies makes all the difference in the world. So always look for the good stuff when choosing your jam. Last year, a woman commented that she would be making one of my cookies, but she was using blueberry jalapeño jam; I have yet to find that in my grocery store.
Just remember that anytime you add fresh fruit like peaches to your cookies, make sure you have as much juice out of the fruit as possible. I often leave these types of cookies out on a plate to get air and stay dry. I never put them into a closed container, or they will get soggy. But fresh fruit enhances the flavor of your cookies.
Ingredients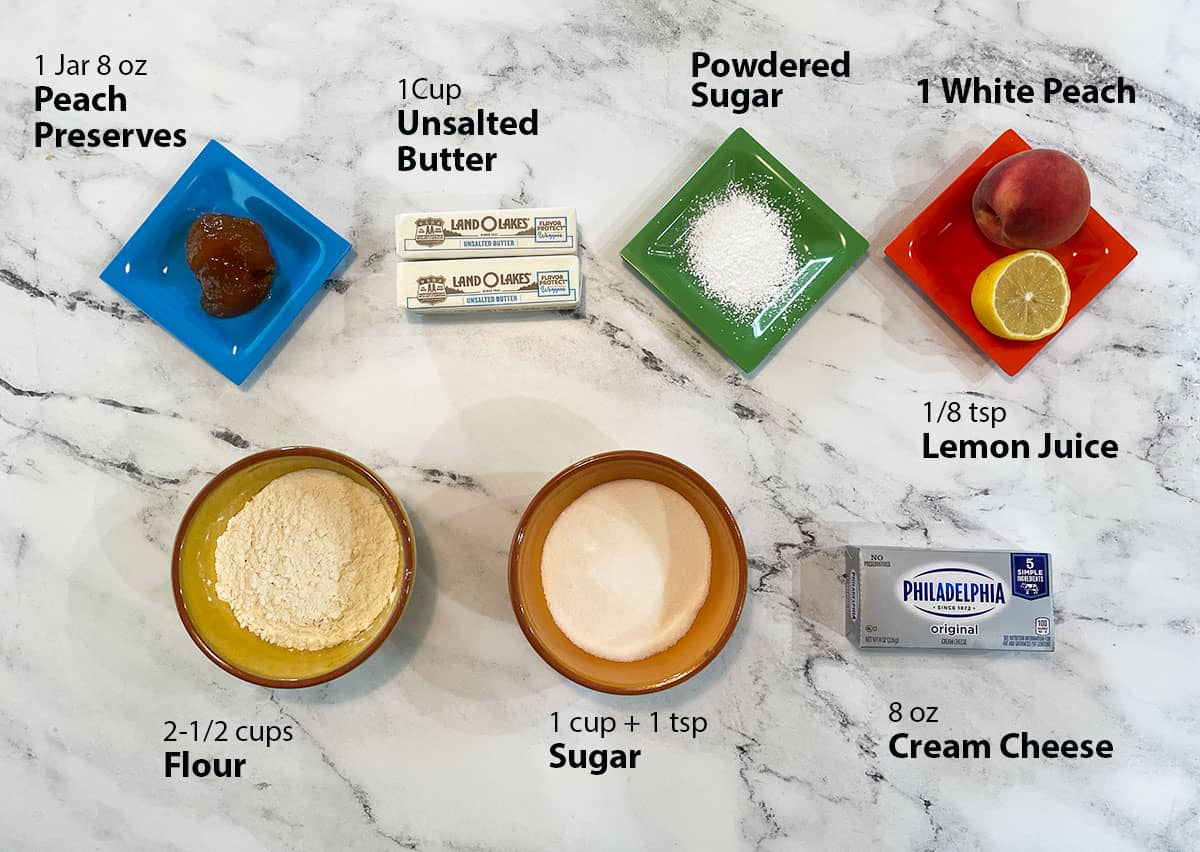 Jump to Recipe for amounts
Flour
Sugar
Cream Cheese
Lemon Juice
Powdered Sugar
Unsalted Butter
Peach Preserves
Instructions
After mixing your cookie dough according to the directions below, you will want to chill the dough for about one hour. This allows the cream cheese and butter to firm up for easy rolling the dough into balls.
You will want to take a spoonful of the dough (having a cookie scooper is a great tool!) and roll it in your hands to form a ball. To make it easier to make the well, I add all the balls straight onto my baking sheet. Taking your thumb straight down through the middle but not going the whole way makes a great size well for the jam or preserves.
I fill each well not quite to the top; I like to leave a little room for the preserves to bubble a little while baking.
Cut up a peach in small enough pieces for the top of each cookie when they come out of the oven.
While the cookies were baking, I cut a peach into small pieces. Then, as the cookies are cooling on a rack, I add fresh peach on top of each cookie.
Storage
Store them in an open container after your fresh peach and preserve thumbprint cookies have cooled. There is always some juice from fresh fruit, and closing them in a container allows the cookie to absorb the fluid. Letting them out on a plate gives the cookies the ability to evaporate the liquid.
FAQ's
What is the best way to make the thumbprint?
Some bakers use the round end of a ¼ teaspoon or ½ teaspoon, but that did not always work. So instead, I slightly wet my thumb with water and go straight down in the middle from the top. You have to make sure you do not go through the bottom or leak out the preserves. If the well does not seem quite big enough, I move my thumb to widen the well in a small circular motion.
Why did my cookies get slightly wet on the bottoms?
I love fresh fruit with my cookies, but fresh fruit also retains a lot of liquid. So after you cut up the peaches, I lay them on a paper towel to absorb their natural juice. You want them to be as dry as you can get them before adding them to the top of the jam.


Here are a few other peach cookies to try:
Peach Pie Cookie Cups
Peach pie mini cookie cups are just like a piece of peach pie, only so much handier since you can carry them around and eat them in one or two bites.
Check out this recipe
Peaches Cinnamon with Vanilla Bean Glaze Cookies
Fresh fruit is fun to use in cookies, as long as you take care to drain it. Vanilla on peaches works so well.
Check out this recipe
Recipe
Fresh Peach and Preserve Thumbprint Cookies
Barbara Hall
Perfect July cookie! Please remember that if you use fresh peaches on top to leave the cookies on a plate, they need air. Fresh fruit cookies do not do well in a closed container.
Ingredients
COOKIE
1

cup

room temperature Butter unsalted

2 sticks

8

ounces

softened Cream Cheese

1

cup

white Sugar

198 g

2-½

cups

All-purpose flour

300 g

8

ounces

Peach Preservers
TOPPING (optional)
1

White peach

cut into small pieces

⅛

teaspoon

Lemon juice

1

teaspoon

Sugar white

Powdered sugar

Sprinkle on top
Instructions
Weigh or measure the sugar into a small bowl and set aside. Then, in another bowl, weigh or measure the flour.

Using a hand-held or stand mixer, blend the cream cheese and butter on medium speed for 2 to 3 minutes. Scrape down the bowl and add the sugar. Blend these for 2 minutes on medium speed. You want the mixture to be smooth-looking. This will tell you that the sugar has been incorporated. Scrape down the sides and turn the mixer back on at a low speed. Slowly add the flour. I usually scrape down the sides and across the bottom and turn the mixer on again for about another 30 seconds. Cover the mixer bowl and refrigerate for an hour.

While the cookie dough is in the refrigerator, take the skin off the white peach and take the pit out. Cut the peach into small pieces and add them to a small bowl. Sprinkle the sugar and the lemon juice over the cut-up peaches. Stir them around, so the pieces of peach get coated. Let them sit for about 5 minutes in the juice. After 5 minutes, drain them using a strainer and then lay them out on a paper towel. The goal is to get as much juice out of the peach pieces without smashing them. Change the paper towel that the peach pieces are laying on a couple of times; it will help draw the juice out.

Preheat the oven to 350°F (175°C or 180°C), and line 2 cookie sheet pans with parchment paper. For these cookies, I use a medium cookie scoop. Take the cookie dough scoop, make a ball using your hands, and place it on the cookie sheet. I get 12 balls to a sheet pan. Taking your thumb and pushing down right through the middle of the dough ball to make a well. I move my thumb around in a circular motion, so the well opens up some to accommodate more of the jam. Fill the well with the jam. I use a teaspoon to push the jam off the spoon; this is easier than using a measuring spoon.

Bake for 12 - 14 minutes until they are light brown on the bottom. Then, move the cookies to a cooling rack and let them cool completely. If you would like to add a little more peach flavor to your cookies, you can add a piece of the cut-up peach on the paper towel. Press lightly; the sticky preserves will hold the peach in place. Just make sure you have as much juice out of the peaches so there won't be a wet spot on the bottom of your cookies. Then sprinkle some powdered sugar on top to finish off the cookie.
NUTRITION DISCLAIMER
I am not a certified Dietitian or Nutritionist. The nutrition amounts given below are provided through a program and are only a guideline.
Nutrition
Calories:
181
kcal
Carbohydrates:
20
g
Protein:
1
g
Fat:
11
g
Saturated Fat:
7
g
Polyunsaturated Fat:
1
g
Monounsaturated Fat:
3
g
Trans Fat:
1
g
Cholesterol:
31
mg
Sodium:
101
mg
Potassium:
40
mg
Fiber:
1
g
Sugar:
14
g
Vitamin A:
384
IU
Vitamin C:
1
mg
Calcium:
15
mg
Iron:
1
mg